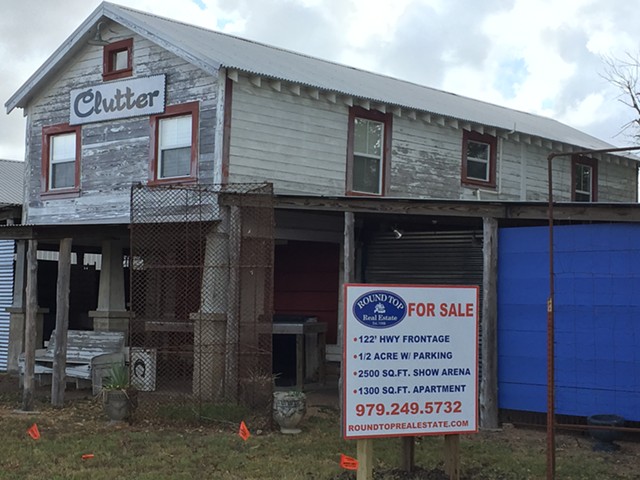 UPDATE: we've decided to set up a couple of days to sell off some display furniture! sept. 21+22, come by if you're in the area, even just to say hello! staci and shirley


Hello from Shirley, I have finally moved into Nothing Ordinary Antiques in Bellville Texas, a large, very well displayed antique mall. I hope that some of you can come for a look during the Fall Warrenton Show. Its only a 30 minute country road drive from Warrenton to Bellville, the shop is at 123 E. Main St. just off the main downtown square. They are open
Monday thru Sat. 10-5 and Sunday 12-5. My space is at the very back against the wall.
Most of you probably know but we are selling Clutter, the property and building. Round Top Real Estate is handling the sale, Jeannette Burger is our agent. The property is a great size for 3-4 dealers to set up, and there are living quarters upstairs, a kitchen and bathroom, and lots of storage downstairs. It has its own well and septic system, and is wired for wifi and phone and Dish TV.
Staci will continue selling at Uncommon Objects at 1602 Fortview in Austin.
We will both miss the Clutter customers and friends. Its been a great 23 years !!
Shirley Schwantz


After careful thought and consideration, we have decided to sell our beloved CLUTTER property. We will miss seeing all the
friends we have made over the 23 years.
Staci will continue to have a space in Uncommon Obects in Austin and I am going to have a space in Nothing Ordinary Antiques in Bellville. I should be in there sometime in August, but will post when I am all set up.
Staci spent 7 weeks in the UK buying for both of us, so we will have new things available.
The property is being handled by Jeanette Burger of Round Top Realty, her # is 281-610-8274.
We greatly appreciate all the years of your business and friendship.
Shirley & Staci Schwantz